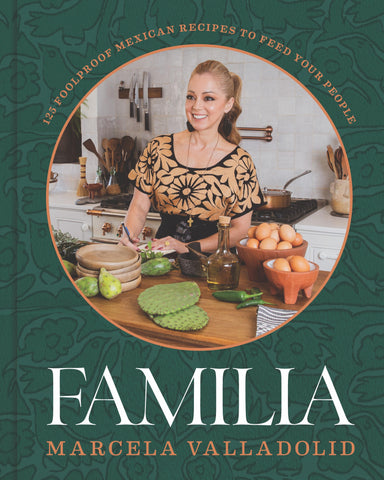 125 Foolproof Mexican recipes to feed your people
Former Food Network star and four-time cookbook author Marcela Valladolid is back with a brand new approach to traditional Mexican cuisine, this time with a focus on deep, authentic flavors and recipes that celebrate the breadth of Mexican cooking. Building off of the success of her hit online cooking show that she runs with her sister - The Marcela and Carina Show - whose foolproof recipes have been tested and loved by thousands of viewers, Familia is an ode to reclaiming traditions for the modern cook, paired with a more relaxed tone that speaks directly to Marcela's readers.

Familia will bring readers inside home kitchens across Mexico, with dishes like Pastel Azteca; Hibiscus Wild Rice with Shallots, Brussels Sprouts and Wild Mushrooms; Caldo Tlalpeño; Camarones al Mojo de Ajo; Tacos Arabes; Carne Asada Quesadillas; and so much more. An ode to the beauty and tradition of Mexican cuisine, Familia is a cookbook to use time and again, and to pass down to future generations.